Contact Us
For further detail and information regarding training, please contact our admin office at (6) 03-79317111 during office hours.
For Business Opportunity: Please email to 该Email地址已收到反垃圾邮件插件保护。要显示它您需要在浏览器中启用JavaScript。
Training Centres:
MBA4KIDS Training Centre (Puchong)
27A Jalan BPU6
Bandar Puchong Utama
Puchong, Selangor, Malaysia
Tel:+6012 283 7588 (for SMS only) ;Email: 该Email地址已收到反垃圾邮件插件保护。要显示它您需要在浏览器中启用JavaScript。
GPS coordinate : N 2.990499 E 101.620312
Direction –
After Puchong IOI Mall, proceed towards Putrajaya direction.
Past Tractors Malaysia (on your left), cut across the first fly over towards Putrajaya.
Along the way, Shell and Petronas gas stations are at your right. Keep to your left when you see Petron gas station on your right.
Go up the fly over. Turn right on top of the fly over (towards Bandar Dengil and Bandar Bukit Puchong direction).
Past the fly over.
Turn left at the first traffic light about 50 meters after the fly over.
Take the first left junction (towards Bukit Puchong Police station and Sun Inn Hotel), we are located at the row of shops fronting the main highway to Putrajaya.
MBA4KIDS Training Centre (Petaling Jaya)
Unit C-2-25 Block C, 8 Avenue Business Centre
Jalan Sungai Jernih 8/1, Section 8
46050 Petaling Jaya
Selangor, Malaysia
Telephone: (6) 03-7931 7111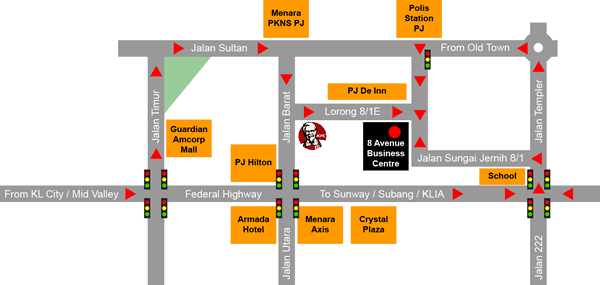 Direction – Along PJ Hilton on your left, Keep right and turn right at the traffic junction where KFC is at the corner. Go straight, at the end of the road (T junction), turn right and keep right; go to the end of the block (8 Avenue Business Centre). Turn right into the car park. Turn right at the small round about and Block C is at your right. We are located on the Unit C-2-25 at Block C.
Music To You Centre (Kuchai Lama)
David:+(60) 016-3317366
Clairrence:+(60) 016-2050944
MBA4kids Centre (Penang-Island)
Janet Lim:+(60) 012-4779270
Kwong YL:+(60) 017-4016581
BM Learning Centre (Penang-Main Land)
Tham CL:+(60) 012-6504313
INDIA -
For Business opportunities in India please contact Mr. Amit Yadav:
  Phone: +(91)-9213141007
  Email: 该Email地址已收到反垃圾邮件插件保护。要显示它您需要在浏览器中启用JavaScript。
For information regarding workshops please contact:

MASTER FRANCHISEE DELHI NCR (Delhi/Gurgaon/Noida/Ghaziabad/Faridabad)-
Dharmendra Pandey / Avantika Mehra
  Phone: +(91)-8800005100 / +(91)-9582965001
  Email: 该Email地址已收到反垃圾邮件插件保护。要显示它您需要在浏览器中启用JavaScript。
GURGAON 1
  Sadhna Soni/ Surbhi Nijhawan
  Phone: +(91)-9810948760 / +(91)-9899331852
  Email: 该Email地址已收到反垃圾邮件插件保护。要显示它您需要在浏览器中启用JavaScript。
 CHINA -
c/o Xiamen University
  Xiang Sheng Zhan +(86)-13275009963
  Soo EK +(86)-18859276331
  Wang HL +(86)-13123388779
SINGAPORE -
WMQ Center @ Lion's Building, Paya Lebar
  Cecelea Chen +(65)-94878849
PORTUGAL -
Gloria Costa +(351)-924469330
Serra Marques  +(351)-966394591
 SPAIN -
Dr. Fernando Salgado +(34)-665353867